Nothing reinforces your safety message more powerfully than hands-on experiences. That's why in addition to the colorful workbook, the Paths for Electricity materials include copper wire and flashlight bulbs with which students can investigate circuits, conductivity, insulators, short circuits and grounding. Through the workbook, students draw on what they've learned to predict the path electricity will take in 13 potentially dangerous electrical situations, and then write their own safety rules. This popular title is a great way to drive home your safety message, while helping upper elementary and middle school teachers teach mandated basic science concepts.

Comes with:

-Student booklet: 16 pp., full color. Price List A

-Teacher's guide: 12 pp.

-Supplies: copper wire and 8 flashlight bulbs.

-Classroom Poster (optional, seen right)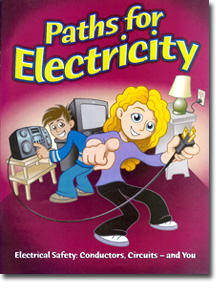 1-877-909-9864

or email: service@entfored.com

Copyright 2006, Enterprise For Education

Topics:

Energy and Electricity in our Lives

Circuits and Short Circuits

Conductors, Insulators and Body

Short Circuits and the Ground

Hands On Activites:

Conductors and Insulators

Classroom Demo: